Changing Corporate Culture:
Hustle to End Hunger and Providing Food for our Community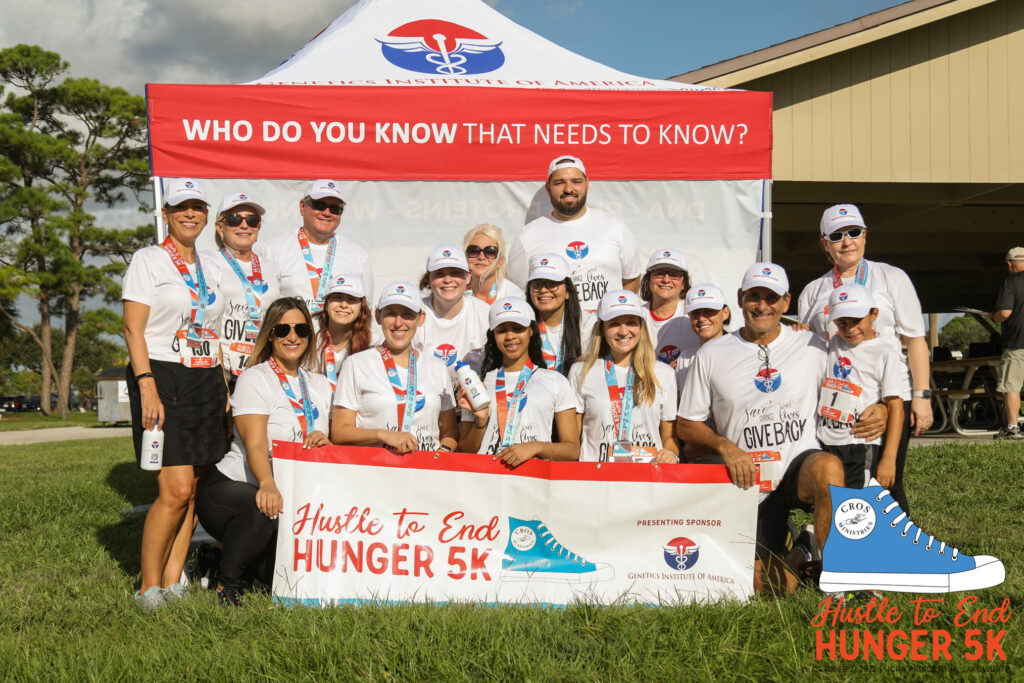 Genetics Institute of America (GIA) takes pride in the community we are a part of and has created a corporate culture that aims to play a greater role in community solutions. Local communities are suffering and, without support from their businesses, will continue to decline and waste away in paralyzing cycles of homelessness, childhood trauma and hunger. Genetics Institute of America refuses to stand by. We are convinced that by putting in the work, we help contribute to the revitalization of our local community, specifically within initiatives that focus on the individuals and families we serve. This series will delve into the philanthropic efforts of Genetics Institute and how we strive to change lives every single day.
DELRAY BEACH, FL –
For 43 years, CROS Ministries has been an indelible force in the fight against hunger in South Florida. With a dedicated team of volunteers, they support 14 different types of food pantries serving individuals and families of both Palm Beach and Martin Counties through donations and their gleaning program. Through CROS Ministries food pantries, they have been able to serve over 70,000 individuals and their families per year and the need continues to increase. Additional community programs provided by CROS Ministries are the Caring Kitchen, which provides hot meals to over 30,000 individuals per year, and CROS Camp, a summer camp for kids that distributes almost 40,000 meals per year with their drive-thru program. Regardless of means or social status, CROS Ministries provides their services to whomever needs them.
CROS Ministries and Genetics Institute of America are devoted to breaking the cycle of hunger by standing for those in our community that need our help. One of Genetics Institute's main pillars is caring, not only for one's genetic health, but for the wellness of the whole person, including their ability to access necessary nutrition for themselves and their families. To take another needed step towards achieving the goal of ending hunger, Genetics Institute of America will be the presenting sponsor at the CROS Ministries Hustle to End Hunger 5K on October 1st to support CROS Ministries community services. This event is a vital fundraising opportunity for this philanthropic organization whose mission is dependent on the generosity of the community they serve. Amid the COVID-19 pandemic, CROS Ministries continues to meet the needs of the increasing numbers of individuals and families they touch with their variety of services and Genetics Institute of America is joining in to help them keep widening their reach.
Genetics Institute of America and their team would love to have you join us in getting involved with CROS Ministries! Sign up for the Hustle to End Hunger 5K at https://www.crosministries.org/events and join in all the family fun. If you cannot participate in the 5K, there are other ways to support CROS Ministries! Find out more at https://www.crosministries.org/take-action.